Clayton Kershaw, Fraud.
     The man himself.
The Marlins torched Clayton Kershaw for a monstrous five runs in the top of the sixth Tuesday night, finally exposing what we've known for the last nine years–guy can't pitch. Nope, the seventh overall pick has been doing it with smoke and mirrors all these years and it finally caught up with him. Look how Giancarlo Stanton's blast brought this hopeless loser to his very knees: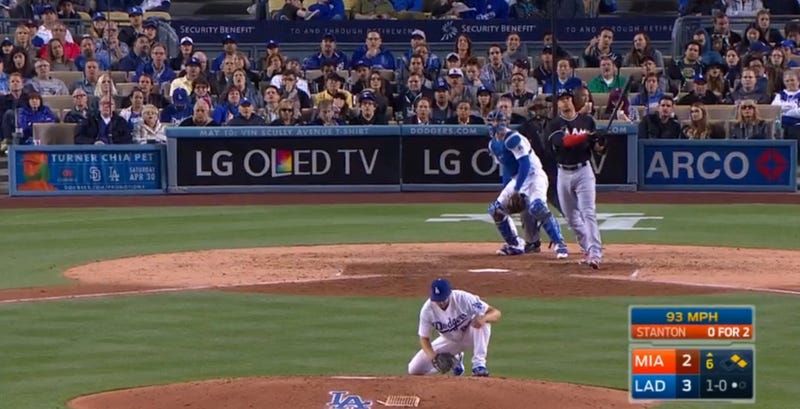 OK, sure, I traded for him. Kershaw, not Stanton. (I would trade for Stanton. Nookie, if you're reading this you miserable piece of shit, hurry the fuck up and…) But that's only because Slumpy offered him up and we do have a reputation to uphold on this desk–when other people say No to trade offers, CL says Yes.
But make no mistake. This junkballing dumpster fire of a pitcher Clayton Kershaw is going to kill our season. The rest of his outing against Miami should have served as a warning that the sixth-inning disaster was coming too: Kershaw only fanned 11 without any walks. How the hell is a guy supposed to play baseball if he can't even walk?
I mean, I can walk a little, but I can't play baseball. I did have sex this morning, but all I had to do was lie there.
Oh and before anybody writes in about how I posted in January that Kershaw should be GCBL's #1 overall pick in the draft, look, don't bother: by now you should have figured out you can't believe everything you read on here.